Bonjour,
En ce moment, la tendance est au project life, que ce soit en album ou sur la mise en forme d'une page.
J'aime beaucoup l'idée des cases donc j'ai voulu m'y essayer sous forme de home déco en réalisant un cadre 3D, découpé à la cameo, pour décorer le dessus de mon bureau. J'ai essentiellement utilisé les produits kesiart dont je suis fan :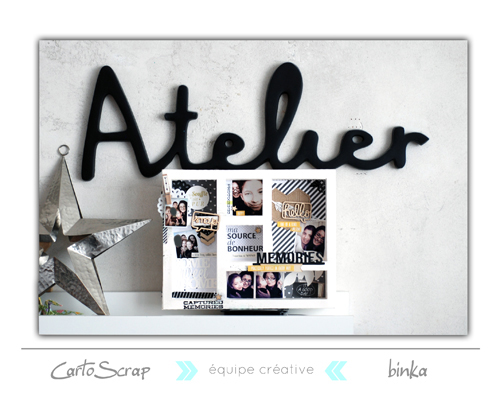 Liste du matériel : Bazzill Blackbird, Mini Pack 15×15 Kiss My Neon, Papier imprimé Kiss My Neon – To Be Continued,bazzil kraft, Stickers Collectable – Remarkable – Authentic, Stickies Flic Flac Floc N°1, Stickies Kiss My Neon N°14, Stickies Kiss My Neon N°10, Wood Chips Freckled Fawn – Speech Bubble, Wood Veneer – Banners, Wood Veneer – Tiny Stars, pince à linge, chevron bois studio calico, Die-Namics – Story Titles, Dies MetaliKs – Coeur évidé, Dies Metaliks Doilies et Feuille, Tampon transparents MFT – Captured Memories, Mini encreur Versafine onyx black, Tampon plume Florilège Design, Mini Encreur Versamark, Poudre à embosser Seafoam white, Gelatos, Tacky Glue.
Et vous, avez vous déjà réalisé ce type de projet ?
Bonne journée,
Binka.