Bonjour à tous ,
Ce mois-ci c'est Sandy qui vous propose le challenge récompensé comme chaque mois par un bon d'achat de 20 euros, valable dans la boutique en ligne Cartoscrap.com.
Il s'agit d'un défi à contraintes :
– du rose (même en petite touche),
– au moins un coeur
– et le thème de l'Amour ou l'Amitié (quelqu'un que vous aimez, votre meilleur ami,…).
Vous pouvez associer ces 3 éléments (pas un de moins ;)) sur une page, une carte ou un mini album au choix !
Votre réa doit être réalisée pour ce challenge (et n'hésitez pas à citer l'inspiration de notre blog pour votre réalisation ;))
Voici les réalisations de l'équipe :
SandyDub :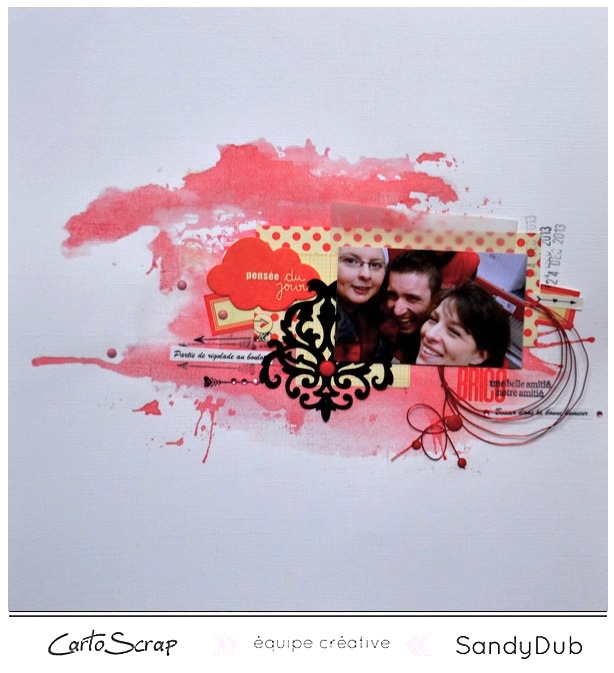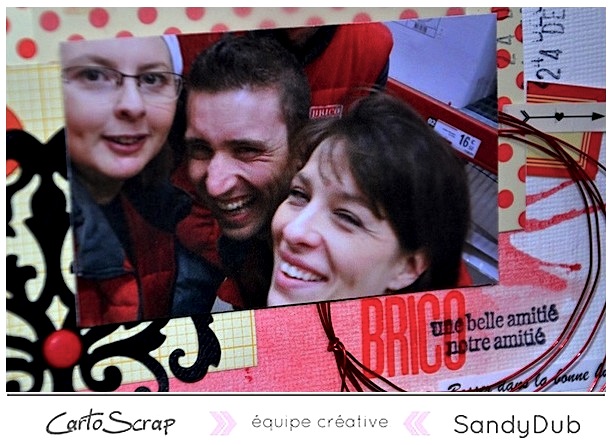 Liste du Matériel : Papier Uni Bazzill White – Texture Canvas, Pack 4h37 – 39 Quai Ernest. H, Etiquettes 25 place du Grand Sapin Vert, Die-Namites – Elegant Medallion, Cartonnettes – 39 Quai Ernest. H, Stickies Kiss My Neon N°14, Gelatos Double Scoop – Bubble Gum et – Red Cherry, Encreur Stazon Jet Black, Brads KesiArt – Petits – Rose, – Grands Rouge et Mini brads rouges (100).
Mylen :
"J'ai tout d'abord été un peu perplexe par le thème proposé, n'étant pas très fan de ce thème de l'amour. Puis, j'ai réalisé que je pouvais le traiter en évoquant quelqu'un de proche que j'aime : ma nièce. Les tonalités roses s'accordent avec la photo, et j'ai choisi de mettre en avant ce thème à l'aide des dies Coeurs et du stickers à gauche de la photo."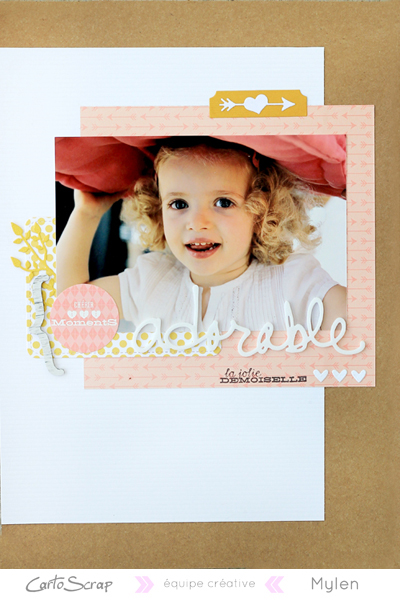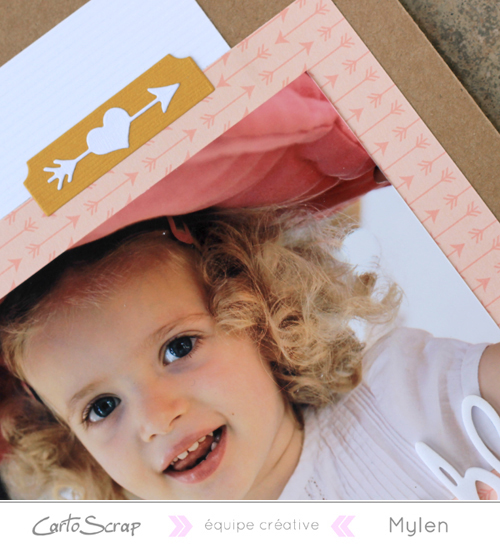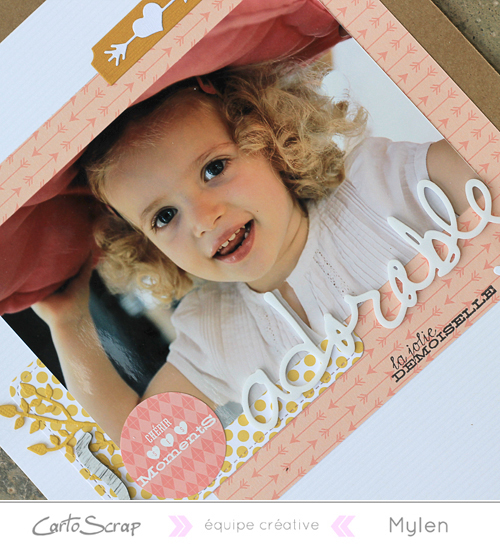 Liste du Matériel : Papier uni blanc Eggshell texture Washboard, Papier Uni American Crafts Dark Kraft, Papiers imprimés Mini Pack 4H37 – 31, cours des 4 Jeudis, Feuille de mousse blanche, Die Métaliks Kesi'Art – Adorable, Die Impression Obsession – Leafy Branch, Stickers et Tampon Kesi'Art – Adorable, Die Freckeld Fawn – Stitched Journaling Cards, Encre Versafine Noire Onyx Black.
Snoopie :
" Tout comme Mylen, j'ai choisi de traiter le thème amour de façon "amour familial" car j'ai réalisé une carte cadeau et son emballage pour offrir à ma petite soeur pour son anniversaire.
J'ai utilisé différents roses, en petites touches, du rose pâle au rose fushia et choisis de mettre de la douceur autant que du pep's ainsi que de jouer sur la transparence."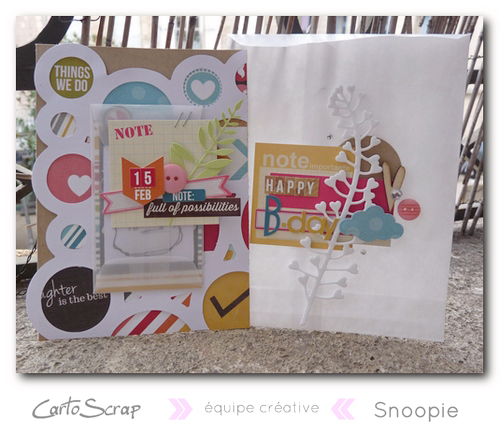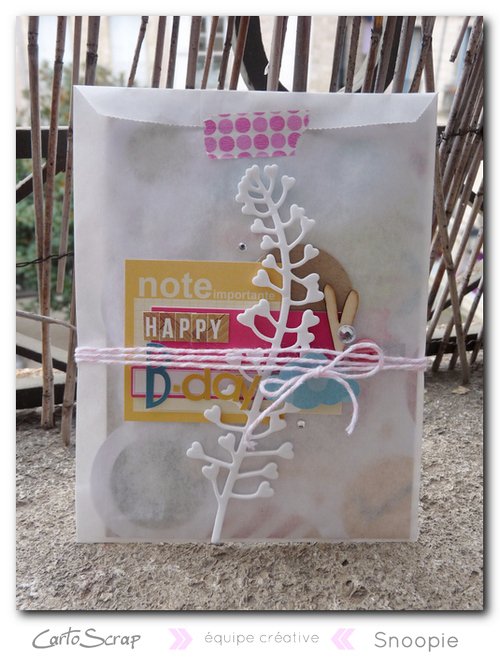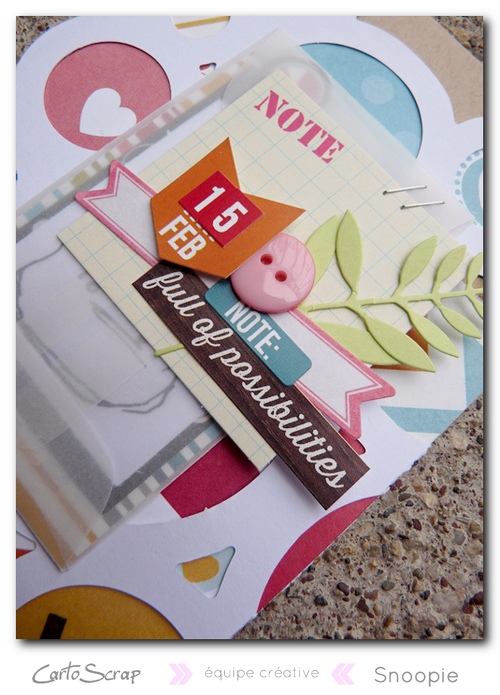 Liste du matériel : Pack 30 x 30 – Daily Grind Collection Kit – Simple Stories, P ack 30 x 30 – Daily Grind Basic Kit – Simple Stories, papier ajouré Placemats – White circles,papier Bazzill Kraft, dies Die-Namites Heart Branch, Impression Obsession – Clouds & Poppystamps – Gentle Leaf, feuille de mousse blanche, strass adhésifs silver, pochette kraft blanchi, étiquettes 39 Quai Ernest H – 4h37, mini enveloppe vellum, Doodle Twine – Cupcake.
Binka :
"Je suis plus inspirée par le théme de l'Amitié que par celui de l'Amour d'ailleurs les coeurs c'est pas trop mon truc. J'ai donc choisi de créer un ensemble de petites surprises idéales pour débarquer à l'heure du goûter : une boite avec des sachets de thé et café, une boite avec un muffin cranberries/amande et une carte dans sa pochette"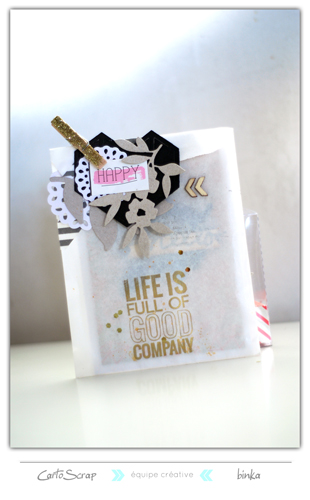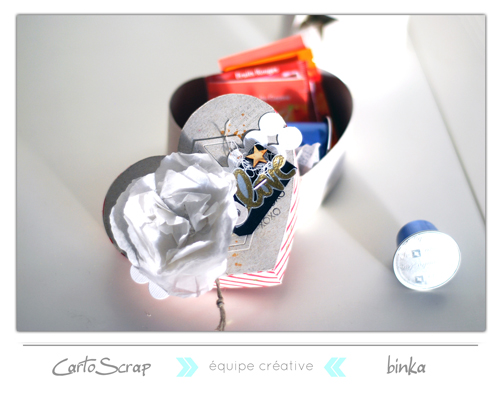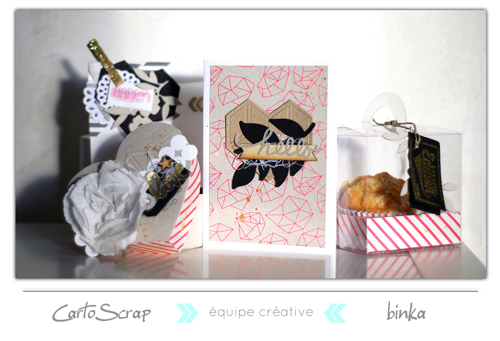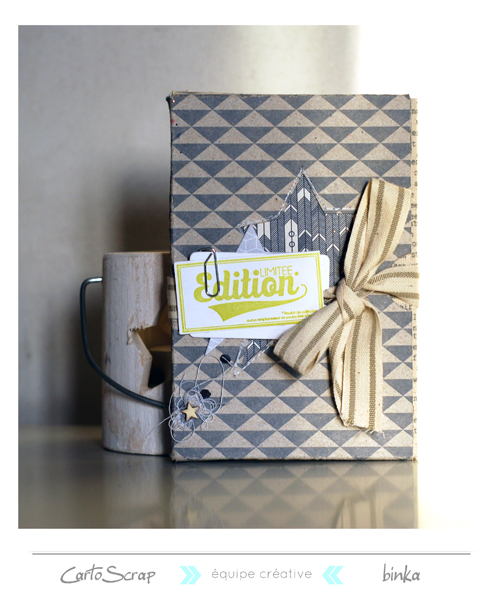 Liste du matériel : Bazzill Avalanche – Texture Grass Cloth, Bazzill BeetleBlack -Texture Criss Cross, Carton KesiArt – Diamant, Carton KesiArt – Gris, Pack 30×30 – Sky's the limit – Find your wings and fly, Pochettes en kraft blanchi, embelissements bois studio calico, Stickies Kesi'Art Kiss My Neon N°10, Stickers Wise Words – Smile – Grey, Tampons clear Kesi'Art "Never Say Never", tampon bois Kesi'Art "edition limitée", Encre Izink Gold, poudre à embosser or, Die-Namics – Double Dot Border, Die-Namics – Layered Rose, Dies MetaliKs – Coeur évidé, – Doilies , – Feuille Edwin, – Feuillage, Die Avery Elle – Simply Tags, pince à linge.
A vous de jouer !
Vous avez jusqu'au dimanche 9 mars minuit pour laisser en commentaire votre lien vers votre article ou vers un hébergeur qui nous montrera votre réalisation.
Un tirage au sort dans la semaine suivante désignera le ou la gagnante. Nous vous espérons nombreux !!
Bonne journée.et à très bientôt pour de nouvelles créations !
EDIT du 13 Mars 2014 : Après tri des commentaires, vérification de la validité des participations, et décompte de celles-ci, voici enfin venue l'heure du tirage au sort ! Nous avons donc pour ce challenge 21 participations valides : un grand merci à toutes (et oui, toujours pas de monsieur ;)) pour votre enthousiasme et vos superbes réalisations, nous sommes ravies que ce challenge vous ait autant inspirées !
Voici donc, le résultat du tirage au sort donné par Random.org pour 21 participations :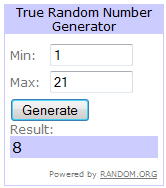 C'est donc Scranandlys qui remporte le bon d'achat de 20€ ! Bravo à toi, tu vas recevoir sous peu un e-mail avec ton bon d'achat ! Merci à toutes pour vos réalisations, et rendez vous la semaine prochaine pour un nouveau challenge ! 😉
Nous vous espérons de nouveau nombreux, à très bientôt !