Bonjour,
Nous voici au second tour des challenges de Noël !!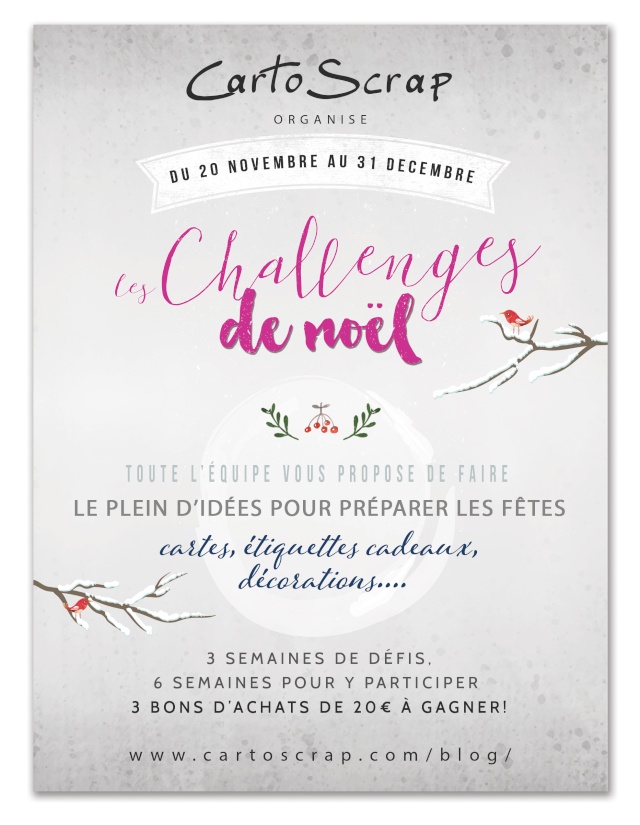 Nous espérons que, de nouveau, vous serez bien inspiré(e)s par ces nouvelles consignes !!!
Nous vous demandons, cette semaine, de réaliser un ensemble gourmand, comprenant : au minimum 1 carte de voeux et 1 emballage gourmand (boîte, sac, bouteille, gourmandises décorées…).
Pour rappel, retrouvez toutes les modalités des challenges ici. Pour tenter de remporter 1 des 3 bons d'achats de 20 € en jeu lors de ces challenges, laissez, sur le post correspondant au challenge demandé, un lien vers votre réalisation (blog, galerie, hébergeur gratuit…).
Comme lors du challenge précédent, nous vous demandons d'axer vos réalisations autour du thème des fêtes de fin d'année. Merci de bien lire les consignes pour vous assurer de la validation de vos réas 😉
Amusez vous bien ! N'hésitez pas à vous inspirer des réalisations de nos créatives :
SandyDub : « Pour ce défi, j'ai choisi de réaliser deux cubes qui seront remplis de gourmandises. Le premier, de petite taille, servira de marque place sur la table de Noël n'offrant qu'un seul chocolat à déguster immédiatement. Le second cube est bien plus grand pour recevoir un lot de chocolats que les invités ramèneront chez eux. »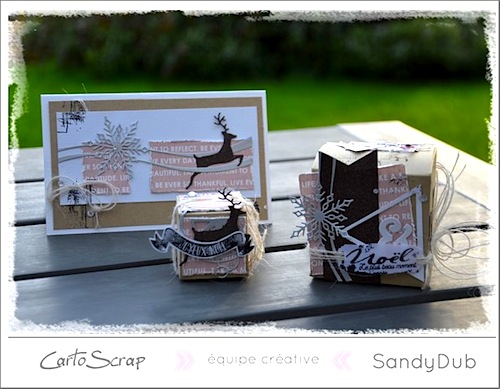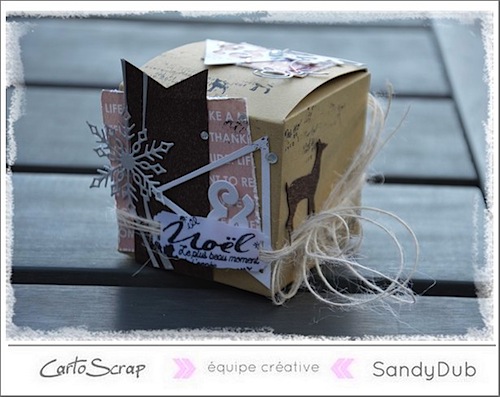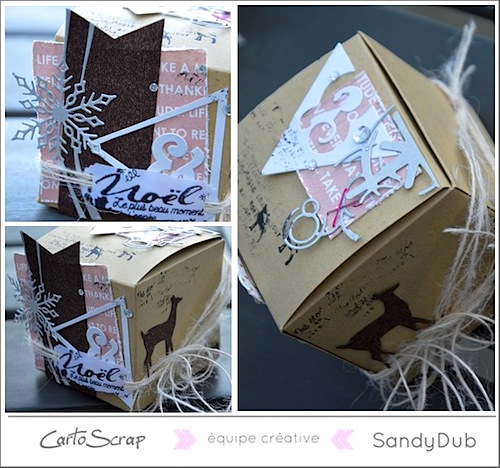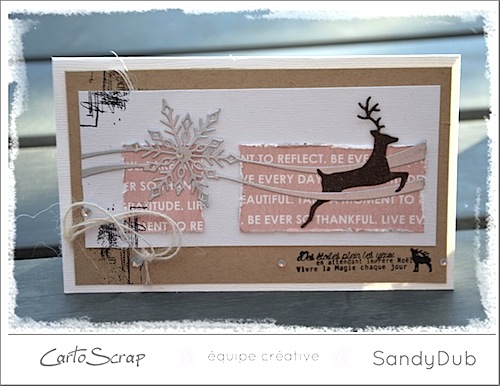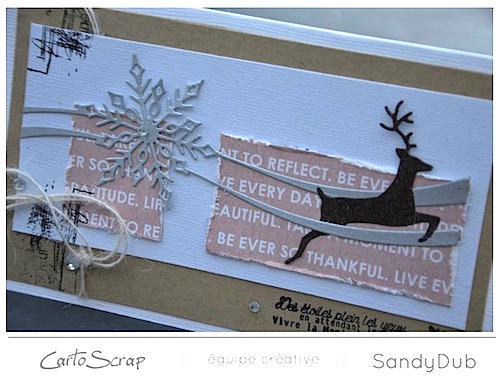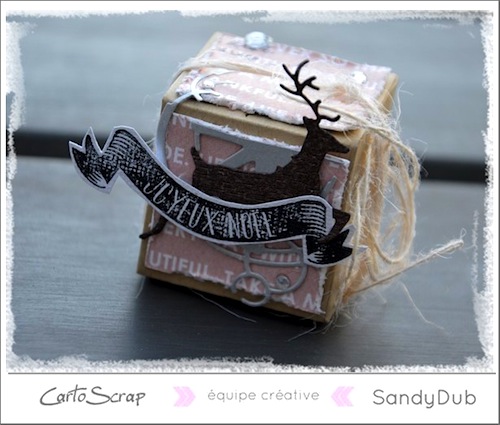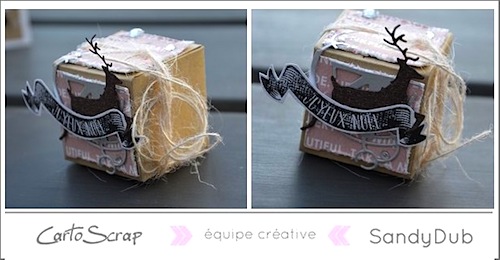 Liste du matériel :  Papier Bazzill Kraft, Cardstock Argent et Toile à relier effet bois, Die CartoScrap Set Detail, Die LittleB Box & Bowes, Die poppystamps Snowflake Ribbon et Forest derr, Die-Namics Jumbo Fishtail Banner Stax, Die Memory Box Sketch Shining Star,  Tampons cartoscrap -Grunge Ology , -Hohoho et –Noël Magique,  Ficelle May arts, Colle silicone, Strass Argent et Clear Artemio, Encre Versafine Noire.
 Snoopie : « J'adore préparer des petits cadeaux gourmands. Pour ce défi, j'ai souhaité resté simple : une bouteille de vin où j'ai créé une étiquette avec un trou pour pouvoir la placer sur le goulot, en utilisant les tampons Cartoscrap et un petit cadeau gourmand emballé avec une petite étiquette grâce au die Cartoscrap avec un voeu de bonheur pour ces fêtes qui arrivent! Le tout accompagné d'une petite carte. »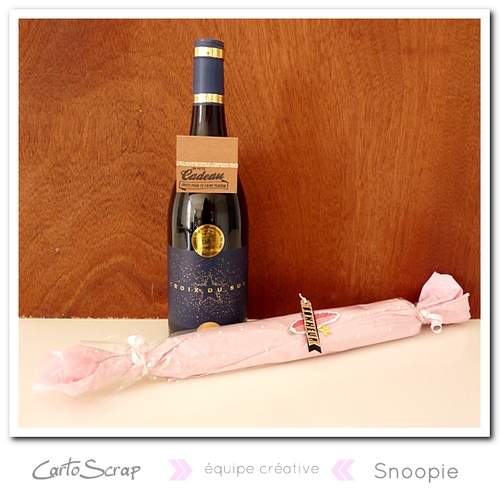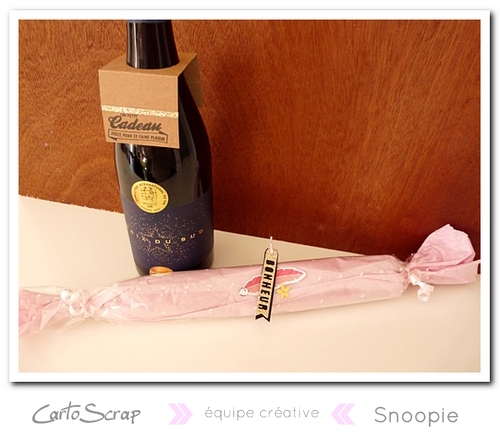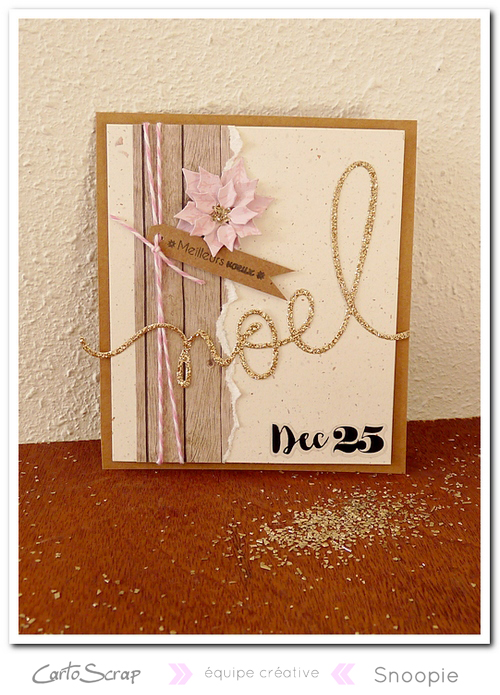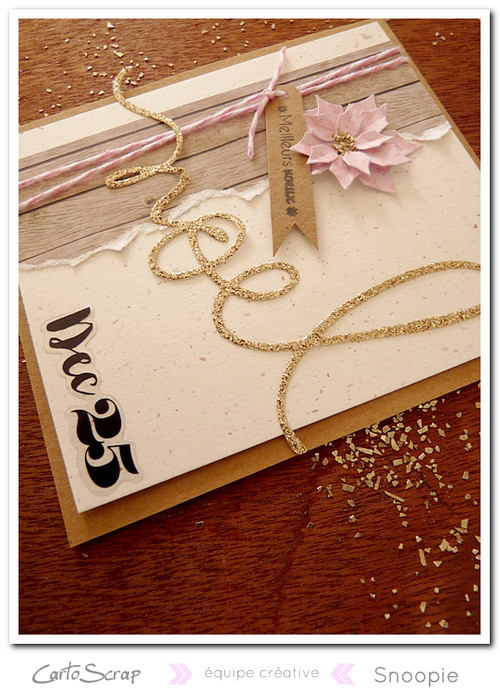 Liste du matériel : Pack 30×30 – My Mind's Eyes – My story, Cardstock AC – dark kraft, Bazzill Raven, cardstock Bling Bling -or rose, mini pack 15×15 – Echo Park – the story of our family, mini pack 15×15 – American Crafts – Project Life – baby girl, tampons Cartoscrap – Anniversaire et La magie de Noël, die Cartoscrap – étiquettes, die Heidi Swapp – Noel, die Impression Obsession – small Poinsettia, Glass Glitter – Arts Ingredients – gold rush, doodle twine – cupcake, stickers Sn@p – Claus & Co – clear photo, stickers Simple Stories – So Fancy – photo, strass, mousse 3D.
Mylen : « De mon côté, mon ensemble sera offert pour Noël lors d'un swap. Un ensemble de décos pour la cuisine, un petit sachet de jolies meringue roses, une petite carte et un sac décoré pour contenir tot cela. J'espère que cela plaira à la destinataire ! »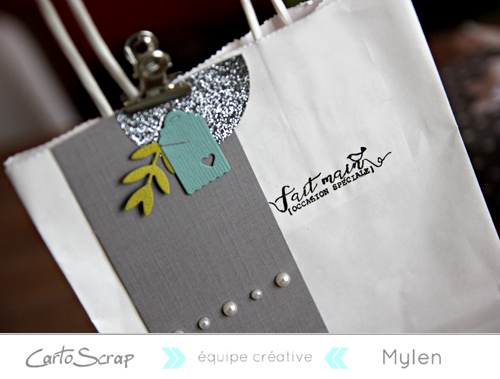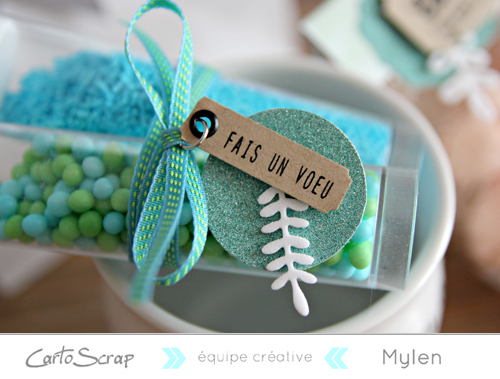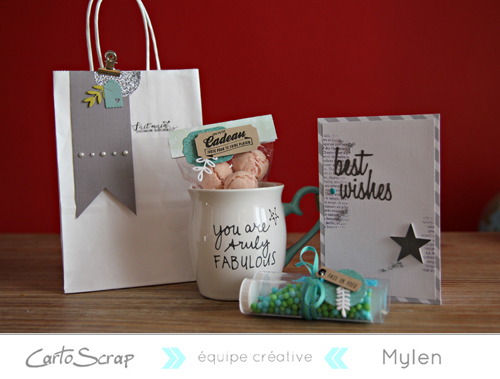 Liste du matériel : Papier blanc, papier imprimé Kesi'Art – Kiss my neon, papier pailleté autocollant Bling Bling – gris, -Turquoise, tampons Cartoscrap – Joyeux Anniversaire,  – Fait main, tampons L'encre et l'Image – les Textures, Die Sizzix Tim Holtz -Celebration Script Word, Die Memorybox – Stitched Star Layer, – Finnegan Fronds, Die Metaliks – Branchage,  microbilles 13@rts – argentées.
N'oubliez pas, vous avez jusqu'au 31 décembre pour poster votre participation.
Toutes les modalités sont à retrouver ICI !!
A très vite !! 😉
L'équipe Cartoscrap