Bonjour !!
Comme annoncé la semaine dernière, aujourd'hui commencent nos grands Défis de l'été qui vont s'étaler sur 4 semaines !!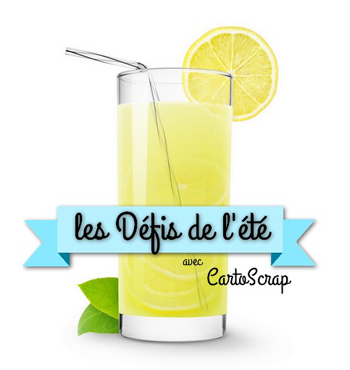 Chaque lundi, deux nouveaux sujets seront proposés par l'équipe créative… 4 bons d'achat de 20 Euros valables dans notre boutique en ligne seront à gagner à la fin de tous ces challenges à l'issue d'un tirage au sort (tout le monde a sa chance ;)) !
Vous avez jusqu'au  31 Août pour poster votre participation dans les commentaires ci-dessous !! Un tirage au sort désignera le gagnant de cette semaine la semaine suivante : vous pouvez faire soit l'un, soit l'autre, soit les deux challenges (et donc 2 fois plus de chances de gagner ;)) !!
Place à la première semaine de challenges, en particulier un joli combo frais et dynamique, et un lift d'une page pleine de douceur… 2 sujets pour vous inspirer !!
Voici tout d'abord le combo proposé par Mylen :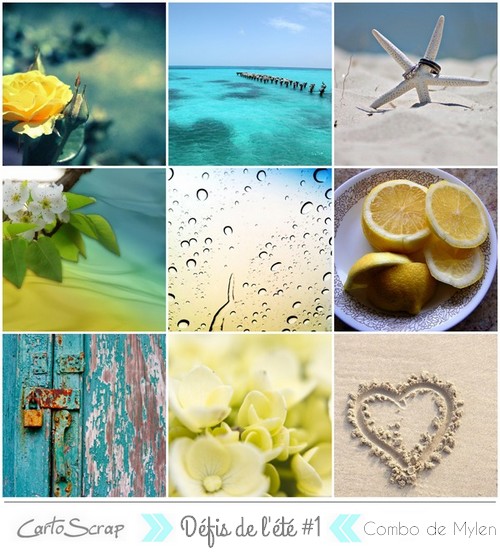 Pour vous inspirer, voici les interprétations de Mylen et de Snoopie !!
Cliquez sur l'image pour lire la suite…
Mylen :
 » Voici ma page, avec un de mes combos préférés ainsi que des photos d'un lieu paradisiaque… «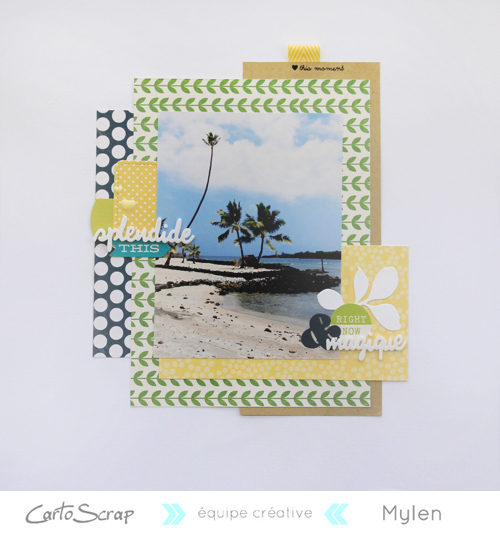 Liste du matériel : Papiers imprimés des Mini packs Splendid Sunshine, 31 Cours des 4 Jeudis de 4H37, Papier imprimé Like a Boho Kesi'Art, papier uni kraft et blanc, mousse blanche, Dies Metaliks Adjectifs, Mini Branche, Die Die-Namics Dog Tag, Die Lawn Fawn Journaling Card, Die Avery Elle Count on it, Ruban Twill jaune, Tampons DIY Simple Stories – Journaling, Die Cuts October Afternoon Girl Talk et Snapshot, Dot Chikaniddy Twirly Girly. 
Et l'interprétation de Sophie :
 » Un combo très inspirant…On se voit déjà sur la plage ou dans cette eau turquoise! Une page avec une photo que j'aime particulièrement, prise sur la plage l'an dernier. »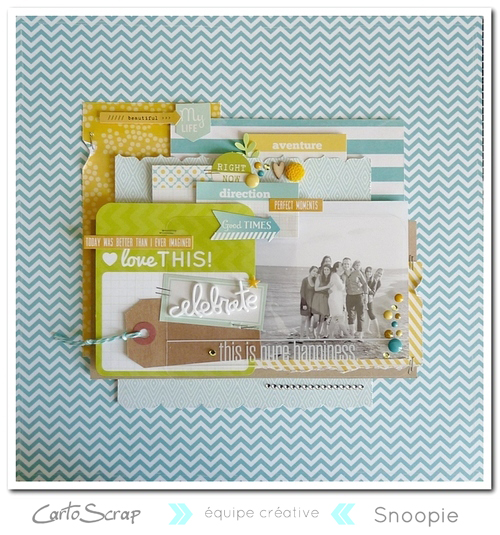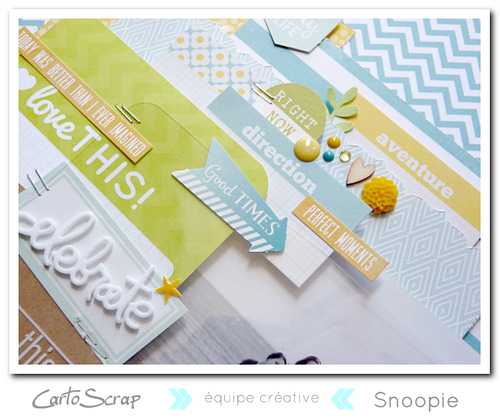 Liste du matériel : Mini pack – Echo Park – Splendid Sunshine, Bazzill kraft, feuille de mousse – blanc,  Cartes project Life – overlays  – set1, étiquettes 74.av James Cook, étiquettes Daily flash – Snap Caps – Girl Talk, die Papersmooches – Birthday words, enamel dots MME – Market Street – Ashbury Heights, pop drops OA Daily Flash – Apple Cider, perforatrice Rock Fern, mousse 3D, étiquette américaine – Kraft, wood Veneer – Hearts, tiny words stickers – The sweetest things « Honey. perfect »
Et voici notre deuxième sujet de la semaine, il s'agit de lifter cette superbe page de Snoopie (c'est-à-dire de s'en inspirer le plus possible) :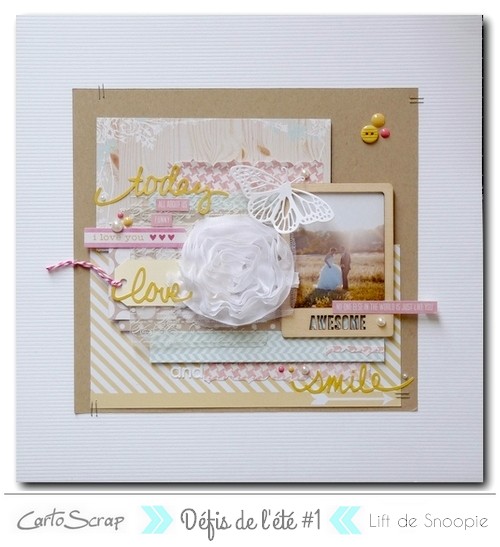 SandyDub :
« Lifter Sophie a été pour moi un vrai défi, trop de papier et trop carré mais j'ai décidé de rester une bonne élève. Je me suis appliquée et j'ai fait un lift très rapprochant. Mais comme je suis aussi un peu cancre, j'ai  fait une seconde version : un autre lift  beaucoup plus free. J'ai gardé quasiement les mêmes embellissements dans les 2 pages. »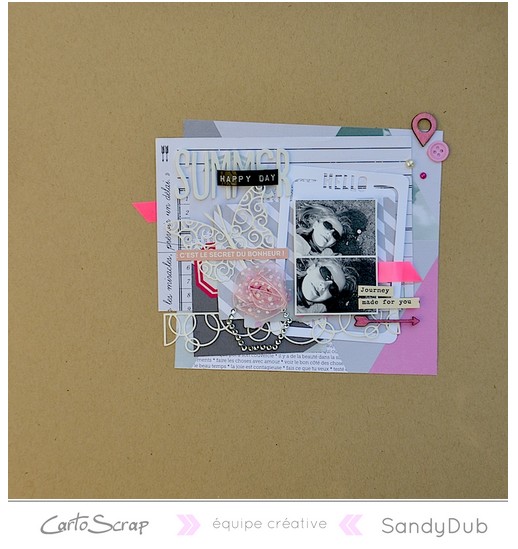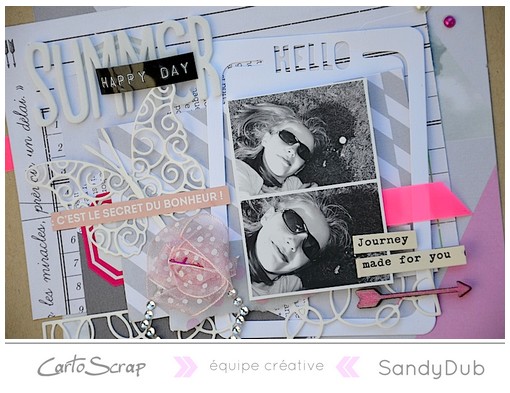 Liste du matériel : Papier Bazzill Kraft et Kesi'art Kiss My Neon, Embellissements bois Um Wow Studio  et Studio Calico, Stickers Kesi'art  et , Die Memory Box Butterfly et Loopy Ring Border, Strass hexagone, Ruban May arts, demi perles Artémio, boutons, Peinture H2O « Shades Of You », Mini Placemats Jillibean Soup et Colle silicone.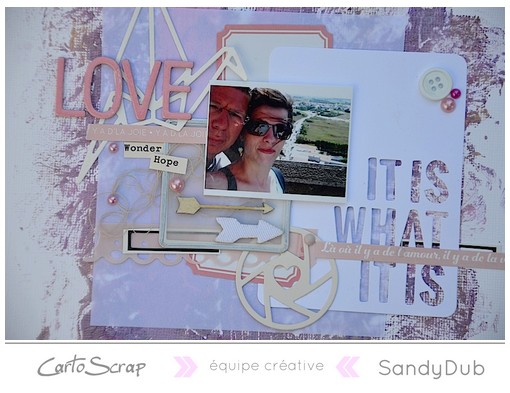 Liste du matériel : Papier Bazzill white, Gelli Plate, Rouleau Brayer Ranger, stickers kesi'art, Die kesi'art Grues Origami et Zoom, Embellissement bois Studio Calico, Boutons, Mini Placemats Jillibean Soup, demi perles Artemio ,colle silicone.
Binka :
« En voilà un challenge qui m'a fait sortir de ma zone de confort : bcp de papiers; une page trés graphique. J'ai donc gardé le format carré et l'idée des textes dans le sens horizontal »
 Liste du matériel : Papier imprimé Kiss My Neon – Never Say Never, Mini Pack 15×15 – Basic Grey – Highline, cartes project life, Wood Veneer – Speech Bubbles & Text, geotag bois Um Wow Studio, Fleurs Résine – Artist Edition – Autumn Hues, tampon bois « portrait » kesiart, Tampons clear KesiArt « Le Clos Fleuri », Tampons Technique Tuesday – Photo Love by Ali Edwards, Mini Encreur Versafine Onyx Black, Dies MetaliKs – Vous êtes ici
Petit rappel de ce jeu : Vous posterez votre interprétation en commentaire, à la suite du message. Vous avez jusqu'au dernier jour d'Août pour participer, et vous participez selon votre envie : faire tous les sujets, n'en faire qu'un seul… un seul mot : faites vous plaisir !!
Toute l'équipe est impatiente de voir vos réalisations !! 🙂
A lundi prochain pour un nouveau sujet !!
L'équipe Cartoscrap.