Bonjour à tous !
En ce mois de septembre, l'équipe de CartoScrap a décidé de mettre à la une un mode de photographie très à la mode depuis quelques mois : le Selfie. Chaque membre de la DT a donc interprété ce sujet, le résultat est plein de pep's !!
SandyDub: "Le selfie est très à la mode, surtout chez les ados. J'ai donc choisi de scrapper une photo que ma fille a prise d'elle à la plage cet été. Un peu d'encre et de sable pour mettre en avant cette photo de vacances."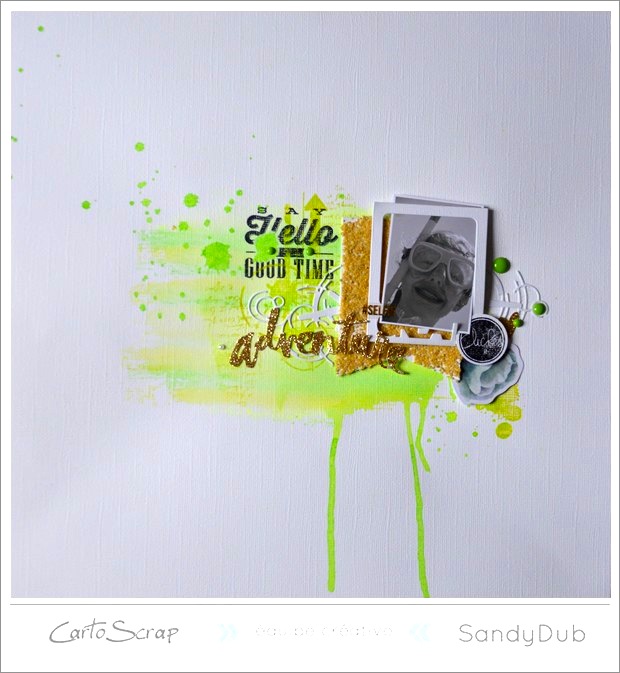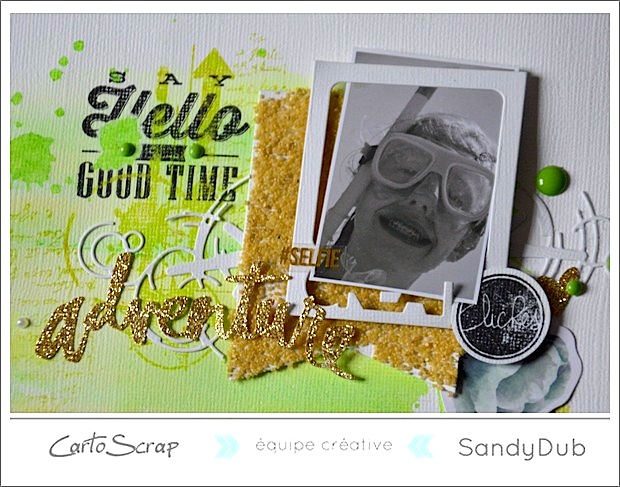 Liste du matériel : Cardstock blanc, Gelatos couleurs vives et Mix&Match Green, Tapis Téflon, Stickers Simple Stories -So Fancy, -So Rad, -I Am ,Colle silicone, Pochette d'embellissements Flea Market, Tampons CartoScrap 'Badges Photos" et "A Great Day", Die Memory Box Sketch Shinning Star, Die Echo Park "Photo Card, Heart, Create", Die-Namics Jumbo Fisftail Banner Stax, Enamel Dots Studio Calico Green, Stickers Vinyl Heidi Swapp Wanderlust Gold Glitter, Double face Scor tape, Encre Versafine.
Snoopie : " Ici, j'ai choisi d'utiliser un Selfie qui date de 2013, lorsque nous étions sur le chemin du Domaine où l'on s'est marié avec le coffre rempli de décorations à installer avant le mariage. J'ai choisi de garder une dominante de vert d'eau parce que c'était l'une des couleurs du mariage et d'ajouter du pep's avec du rose et du doré. En mode plus girly que Sandy qui a mis du sable, j'ai ajouté des palliettes Art sugar rose sur certains éléments en bois et sur ma fleur. J'adore!"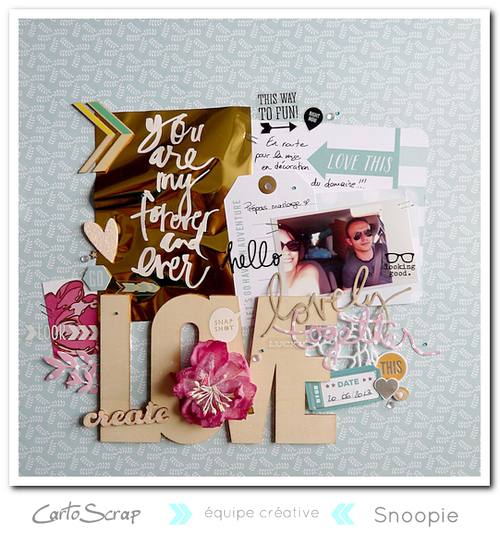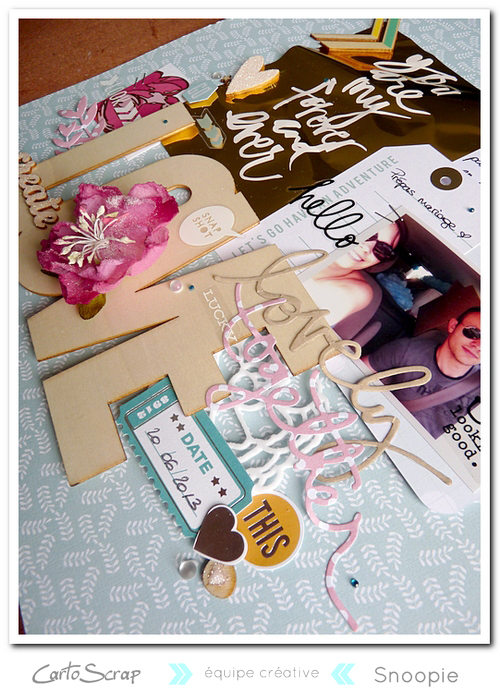 Liste du matériel : Bazzill Kraft, Maxi pack 30x30cm – Kési'art – Aloha, Mini pack 15×15 cm – American Crafts – Baby girl, kit cartes & embellissements – Just my type, kit cartes & embellssements – Note to self, cartes carrées Heid Swapp – Hello Beautiful, kit rub'ons foil – Forever and ever, Die MetaliKs – Together, Die MetaliKs – pivoines, Die MetaliK's – Branchages, Die Heidi Swapp – Lovely, Art sugar – Art ingredents – light pink, feuille de mousse – blanc, strass adhésifs – 2mm – turquoise, demi-perles givrées – cristal, stickers Sn@p – DIY – clear words, mousse 3D.
Mylen : " Le selfie est pour moi une photo instantanée, prise du bout du bras sur le vif, un moment imprévu totalement improvisé… en voici un avec 3 amies, une photo délire qui retrace bien l'esprit de ce week end de folie passé ensemble"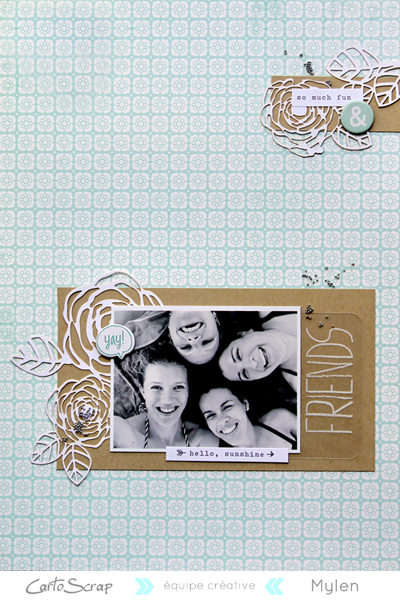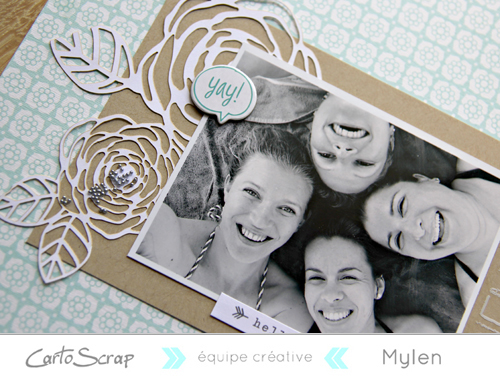 Liste du matériel : Papier uni kraft, papier imprimé Kesi'Art – Edito, stickers Simple Stories Life Documented – Word Stickers, Die cuts Becky Higgins – High Five, papier évidé Die cut Heidi Swapp – Color Maggic, Carte Project life – Overlays – Playful, Micro-billes argentées 13arts.

Binka : " le selfie est une photo vite prise pour immortaliser un moment, c'est le moyen d'etre prèsent sur le cliché. J'utilise souvent ce mode de photo quand nous sommes plusiseurs, dans les moments fun."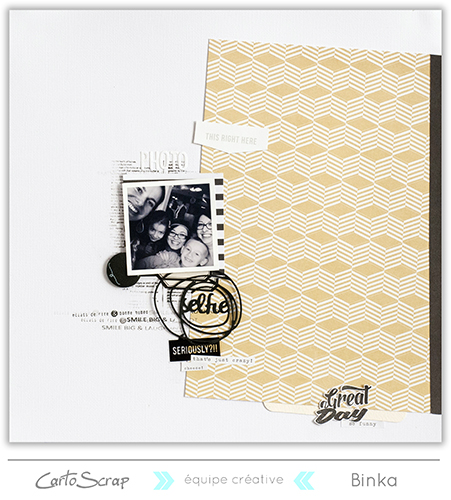 Liste du matériel : Cardstock AC – White , Bazzill Raven – Texture Canvas, Pack 30×30 – Heidi Swapp – Wanderlust, Stickers Sn@p! – DIY – Clear Words, Stickers Sn@p! – Life Documented – Word, Tampons CartoScrap – A Great Day, Tampons CartoScrap – Carpe Diem, Dies MetaliKs – Quatuor Selfie, Dies MetaliKs – Quatuor Selfie
Si ce sujet vous inspire, n'hésitez pas à nous montrer votre interprétation pour le fun !! 🙂
A bientôt,
L'équipe Cartoscrap