Bonjour à tous!
Nous voilà en février et il fait froid partout maintenant! Malgré tout nous espérons que le soleil vous réchauffe un peu les joues quand vous mettez le nez dehors! 🙂
Et puisqu'il fait froid, autant en profiter pour scrapper bien au chaud : flocons, couleurs froides, photos d'hiver…Laissez votre imagination vous guider.
L'équipe créative s'est fait un plaisir de travailler sur ce thème de l'hiver et voici les différentes réalisations, nous espérons qu'elles vous inspireront.
Snoopie
Ici on a toujours un hiver plutôt doux et comme je préfère la chaleur, être sous un plaid, avec un chocolat chaud et un bon livre plutôt que dehors à me frigorifier, j'ai décidé de faire 2 petites cartes et un marque page. Nous avons rarement de la neige ici, alors je me suis fait plaisir : j'ai mis plein de flocons…Au moins ceux là ne me donnent pas froid hihi !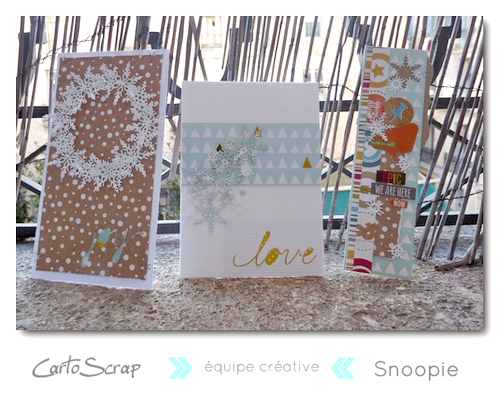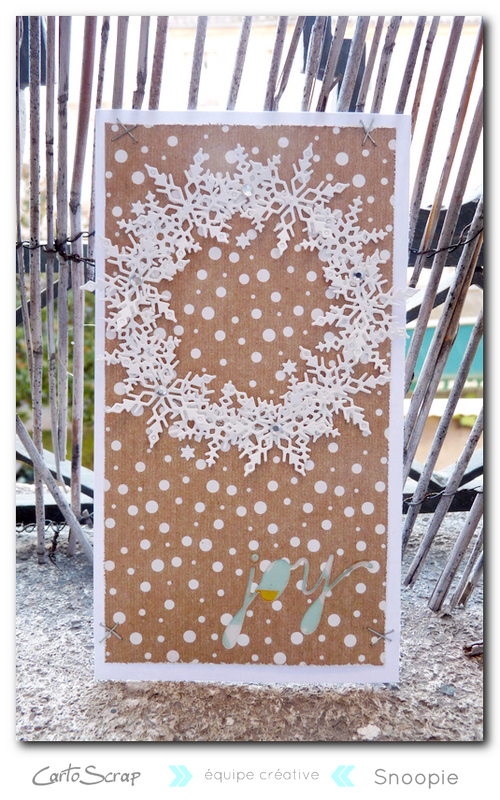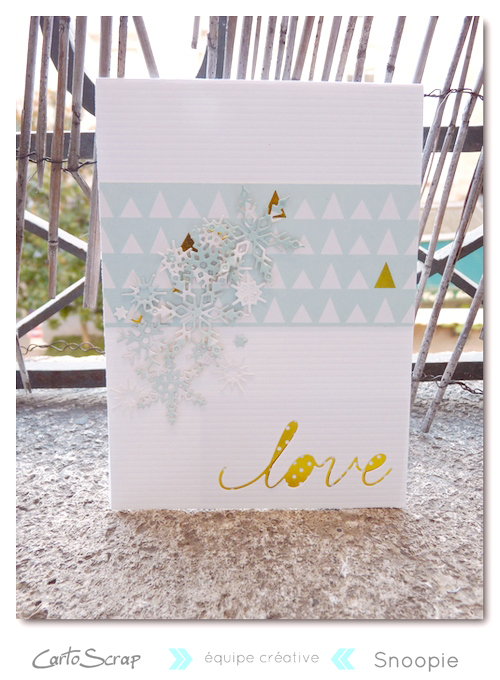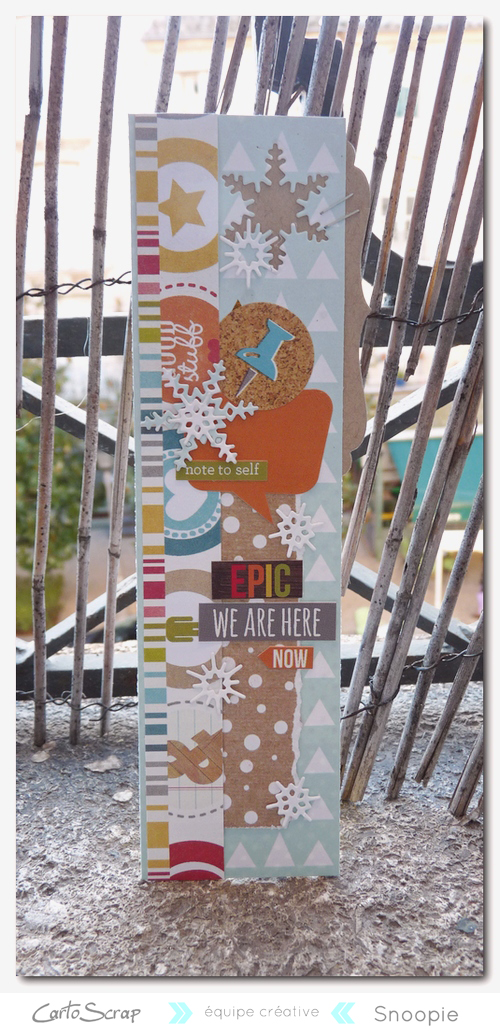 Liste du matériel: Papier imprimé Good Tindings – Frost , papier imprimé Good Tindings – Tree Top, die Impression Obsession – Small Snowflake Set, die Memory Box – Joy script, papier Bazzill Eggshell, papier Bazzill Kraft , Glossy Accent
Mylen
L'hiver n'est clairement pas ma saison préférée, mais j'aime mixer les couleurs froides qui y font référence ! J'ai choisi une photo de nos vacances au ski l'an dernier, puis mon fond, il ne me restait plus qu'à faire un petit rappel avec un gros flocon et avec les couleurs !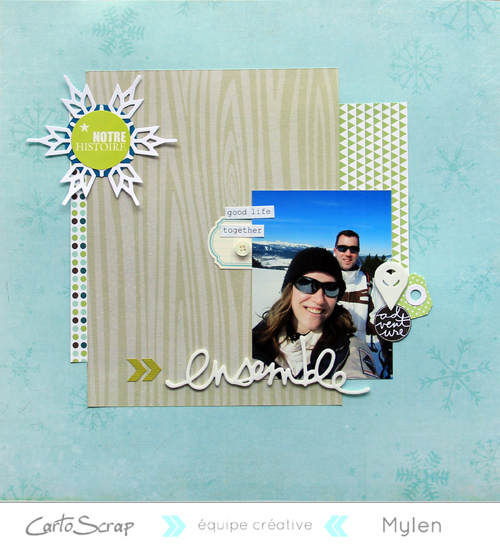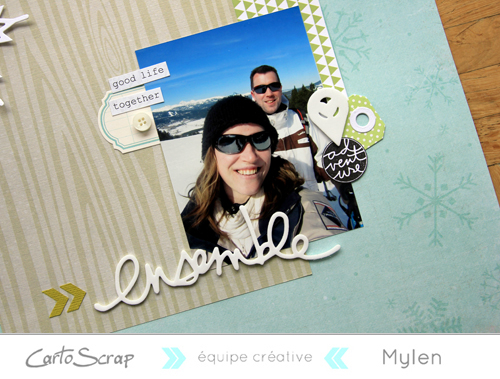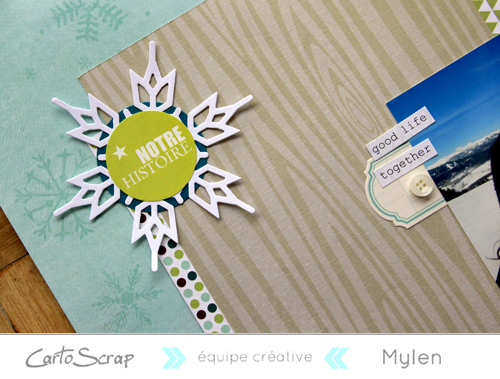 Liste du Matériel : Papier Imprimé Simple Stories – December Documented, Papier imprimé Lemon Owl – Kit Around the Corner, Papiers imprimés Mini Pack 4h37 – 31, Cours des 4 Jeudis, Dies Metaliks Kesi'Art – Flocons, Vous êtes Ici et Ensemble, Die Avery Elle – Simply Tags, Feuille de Mousse blanche (pour la découpe "Ensemble" et le pour Géolocalisateur), Stickers Kesi'Art Vert, Basic Grey et October Afternoon, Tampon Technique Tuesday – Travel with Flair, Encre Versafine Onyx Black.
Sandy
"Le thème de l'hiver m'a tout de suite inspiré. Avec les épisodes neigeux de l'année dernière , j'ai encore pas mal de photos à scrapper. J'ai eu envie de changer un peu des couleurs habituellles en utilisant du jaune, du bleu et du gris foncé."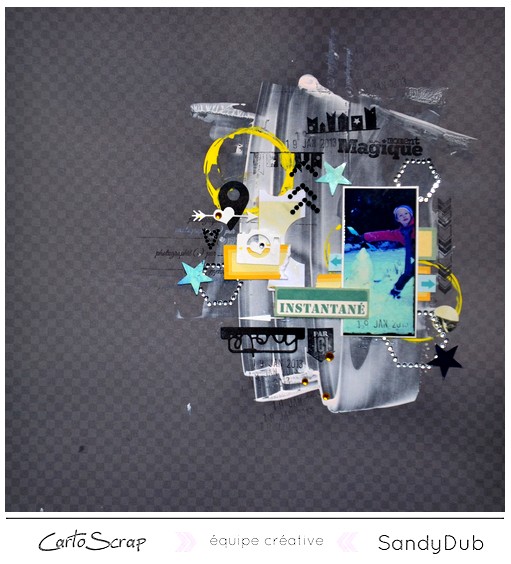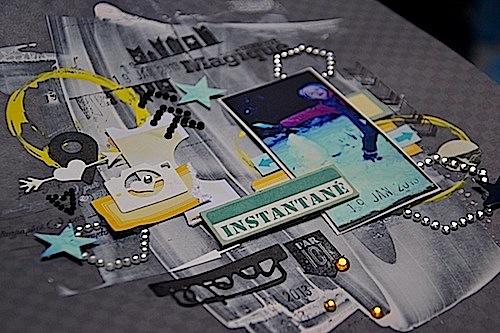 Liste du Matériel : Papiers 4H37 – 39 Quai Ernest H et bazzill white, Die 4H37 – 39 Quai Ernest H, Tampons 4H37 – 39 Quai Ernest H, Demi perles Snowflakes, etiquettes 4H37, Strass hexagones Prima et flèches et chevrons Sai it in Cristal, encre Stazon noire, Gesso.
Binka
"Pour illustrer l'hiver j'ai voulu rehausser le combo habituel (bleu/gris) d'une touche de rouge. J'avais flashé sur les papiers glitz design justement pour leur combos pep's donc une touche de rouge sur mes papier vert d'eau et voilà. "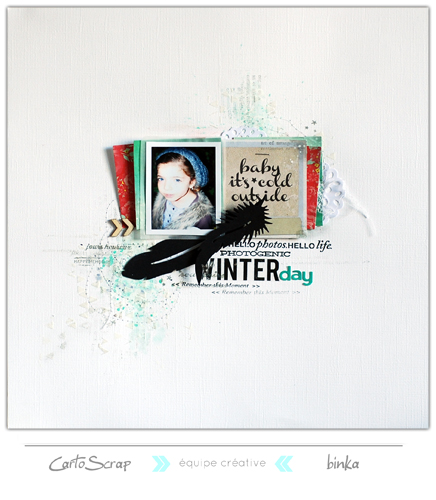 Liste du Matériel : Bazzill Avalanche – Texture Grass Cloth, Bazzill BeetleBlack -Texture Criss Cross, Papier bristol, Mini Pack Glitz 15×15 – Finnley, Alphabet stickers Alphabeans – Tart Teal, Dies MetaliKs – Doilies, Dies MetaliKs – Plumes, gelatos, mask, modeling past, Chalk Fluid Eger – Ingvild Bolme, Mini Encreur Versafine Onyx Black, Tampon molette KesiArt, Tampons transparents MFT – Captured Memories, tampon photo ali edwards, fil, étiquette i lowe scrap, chevron bois.
Bonne journée et à bientôt pour de nouvelles réas !!