Bonjour à tous !
Aujourd'hui, toute l'équipe s'est lancée le défi de scrapper sur le thème du carnaval, de la fête, des déguisements… des réas gaies et pleines de vitalité pour apporter du soleil et une petite note de fête dans cette période un peu pluvieuse 😉
Voici les réalisations de l'équipe créative, qui vous présente des créations diverses et variées :
Mylen :
"N'ayant pas d'enfants, je n'avais aucune photo de carnaval.. j'ai donc choisi de réaliser des cartes d'anniversaire en référence à la fête qu'elle suggère… et en réfléchissant un peu plus, j'ai pensé aux photos que nous avions fait avec DH : une séance photo grimaces avec des moustaches. Voici donc 2 cartes et une page pour illustrer ce thème !"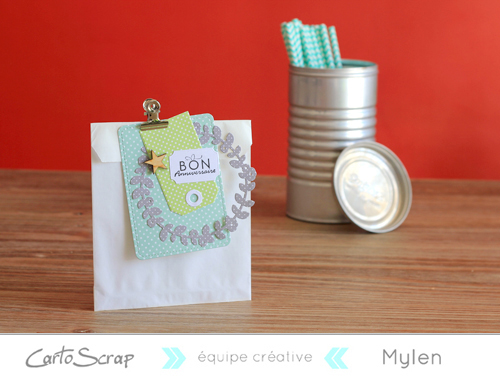 Liste du matériel : Papiers imprimés 4h37, Papier imprimé Kit Around The Corner Lemon Owl, Papier imprimé Kesi'Art Set Instapick, Enveloppe en Kraft banchi, Dies Metaliks Couronne Fleurie, Etiquettes, Die Avery Elle Simply Tags, Tampon Kesi'Art set Anniversaire, Etoile Sodalicious, Encre Versafine noire Onyx Black.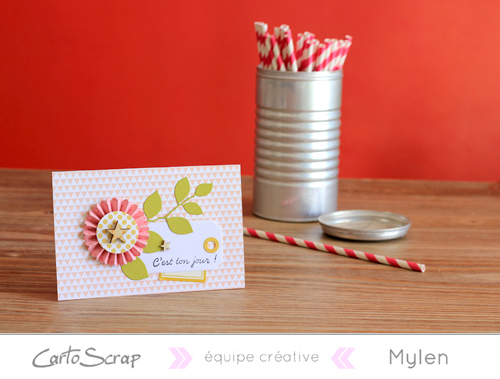 Liste du matériel : Papiers imprimés 4h37, Die Avery Elle Simply Tags, Die Metaliks Leaves, Stickers Stickies Kesi'Art, Die Rosette Tim holtz, Tampon Kesi'Art Set Anniversaire, Etoile en bois Sodalicious, Petite étoile en bois Freckled Fawn Stars and Such, Encre Versafine Noire Onyx Black.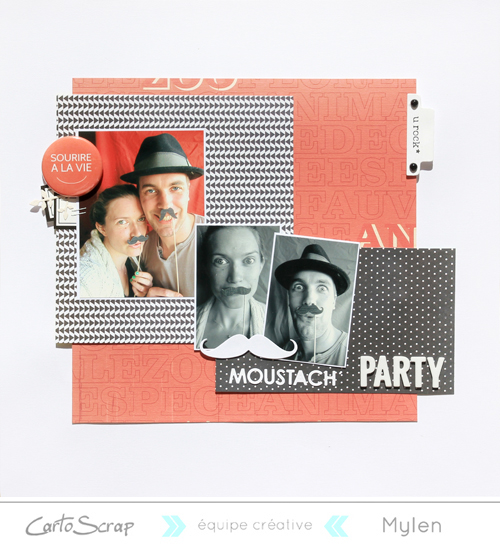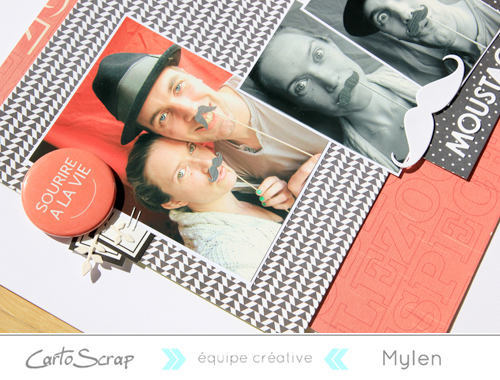 Liste du matériel : Papier uni Kesi'Art Basics, Papier imprimé Kesi'Art set Au zoo, Papiers imprimés Glitz Design collection ??, Dies Metaliks Mr. et Tabs, Die Impression Obsession Leafy Branch, Die Die-Namics Little Letters, Mousse épaisse blanche, Stickers Stickies Kesi'Art Kiss My Neon n°7, Badge Cartoscrap "Sourire à la vie", Tampon à molette Kesi'Art Expression, Encre Versafine Noire Onyx Black.
Snoopie:
"Ici, le carnaval est une institution, d'ailleurs on le fait vraiment à mardi-gras et c'est un peu un jour férié! Les commerces sont fermés, les rues sont bloquées afin que tout le monde puisse suivre le Poulain de Pézenas, et pas de déguisements de princesse ou de Spiderman, à Pézenas, le carnaval c'est en panel qu'on le fête (ou en tshirt blanc et pourquoi pas en violet en référence au rubgy parce que ce sont les rugbymans qui portent le Poulain), bref, le carnaval est très important pour nous, il est plus qu'attendu!! Et en attendant mardi gras, il y a le carnaval des petits où toutes les écoles de Pézenas se rejoingnent pour le fêter en déambulant derrière leurs petits Poulains ♥… Des photos toutes fraîches de vendredi dernier! Les pitchounes et maman en blanc, avec quand même un maquillage de papillon et nous voilà parties pour s'amuser, avec un beau soleil et de la chaleur! Des chants occitants, des confettis, un peu de farine et c'est parti en dansant! J'ai donc fait une page gaie et pleine de confettis (j'en ai également mis dans la pochette kraft), paillettes et strass comme l'était cette superbe après-midi."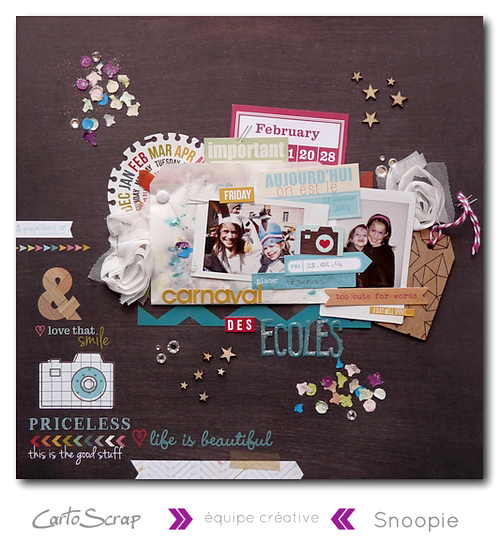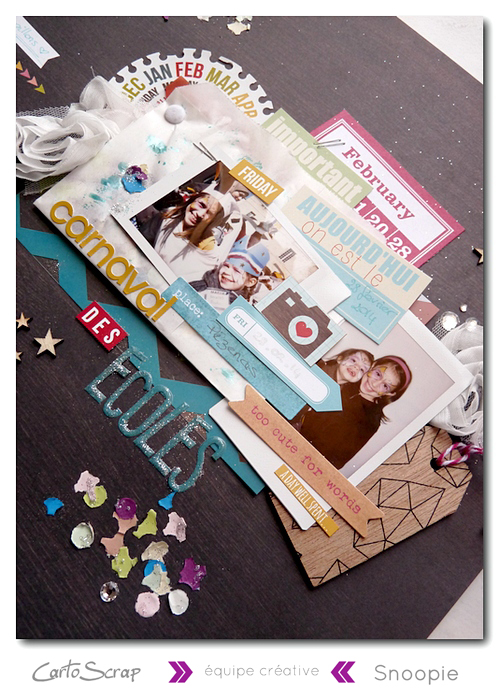 Liste du matériel : Pack 30×30 – Daily Grind Collection Kit – Simply Stories (papier de fond, transparents, alphabets & stickers), Woodees Kiss My Neon – Français, mini Glossy Accent, strass adhésifs Silver, pochettes en kraft blanchi, étiquettes 39 Quai Ernest.H, stickers Miss Caroline – Dolled up – Favorites labels, ruban de fleurs blanches American Craft, Wood Chips Freckled Fawn – Star & Such, encre Izink Topaz, Baker's Twin – Pink
SandyDub :
" Le thème de la fête m'a tout de suite inspiré car on fête un peu tout chez moi et tout est prétexte à s'amuser. J'ai choisi de prendre le thème des allumoirs qui est une institution dans le Nord. Marcher fièrement dans les rues en tenant bien haut son allumoir et attendant impatiemment le petit sachet de bonbons à la fin du parcours.
J'adore scrapper avec des couleurs pétillantes et j'ai tout de suite sorti la gelli plate pour mettre du soleil sur ce fond de page blanc. Un peu de paillettes et de sequins pour égailler et contraster avec la photo que j'ai voulu en noir et blanc."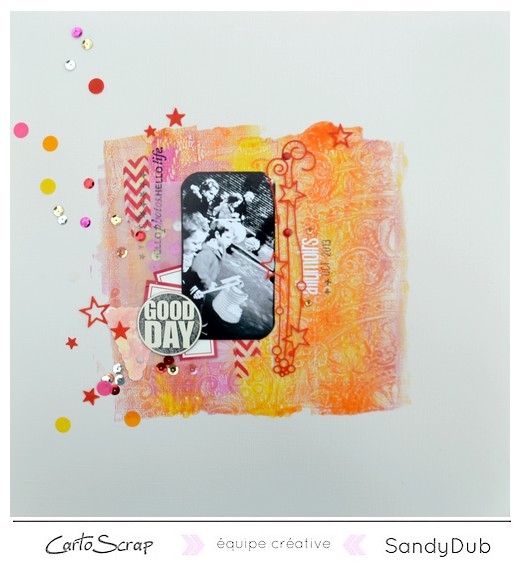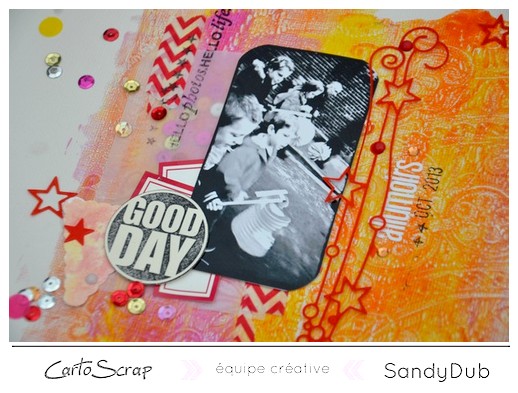 Liste du Matériel : Papier bazzill , Die Memory Box Star Flourish, Gelli plate, rouleau Rayher, peinture Acrylique, alphabet mini Victoria Park, tampon à molette Kesi'Art Hebdo, tampon Technique Tuesday Good day, masking tape chevron, encre stazon noir, Gelatos Red et Yellow, stickies Kesi'art, Brads artemio et Kesi'art, et Strass Silver.
Binka :
"J'ai choisi de partir de cette photo de ma fille au carnaval de l'an dernier. J'ai travaillé mon fond pour lui donner un effet de confettis en noir et doré."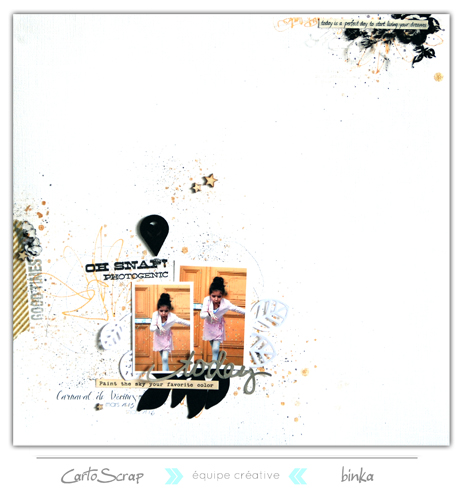 Liste du matériel : Bazzill White – Texture Canvas, Bazzill Raven – Texture Canvas, gelatos, Encre Izink Gold, Mini Encreur Versafine Onyx Black, Tampons transparents MFT – Captured Memories, Stickies Kiss My Neon N°14, masking tape, étoiles bois studio calico, Dies MetaliKs – Feuille Edwin, Dies MetaliKs – Feuilles évidées, Dies MetaliKs – Vous êtes ici.
Toute l'équipe espère que cela vous aura inspiré !!
A bientôt pour de nouvelles aventures créatives 😉