Bonjour tout le monde!
Le froid a fait son apparition et les feuilles commencent à tomber des arbres. Pour fêter l'arrivée de cette nouvelle saison, l'équipe créative a travaillé sur le thème de l'automne .
Voici donc les réalisations de l'équipe:
– Snoopie :
"L'automne n'est pas ma période de l'année préférée mais il fait plutôt bon par chez nous, c'est agréable comme période. J'ai ressorti des photos de ma pitchoune avec un potimarron et j'ai voulu réaliser une page dans les tons d'automne avec beaucoup de marron et de kraft et quelques fleurs pour amener un peu de douceur. J'ai utilisé du carton ondulé pour les découpes dies pour changer des papiers "plats" habituels."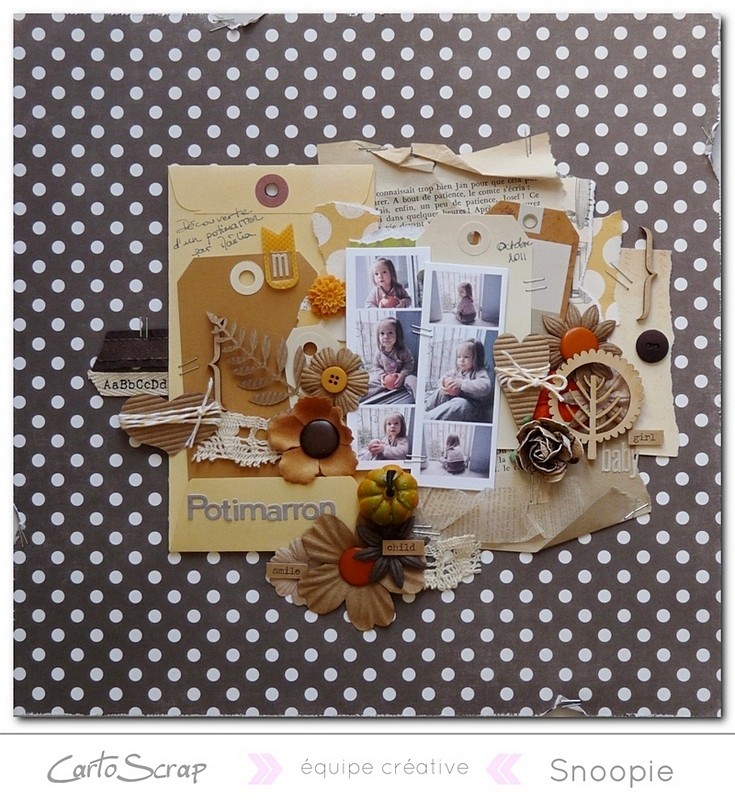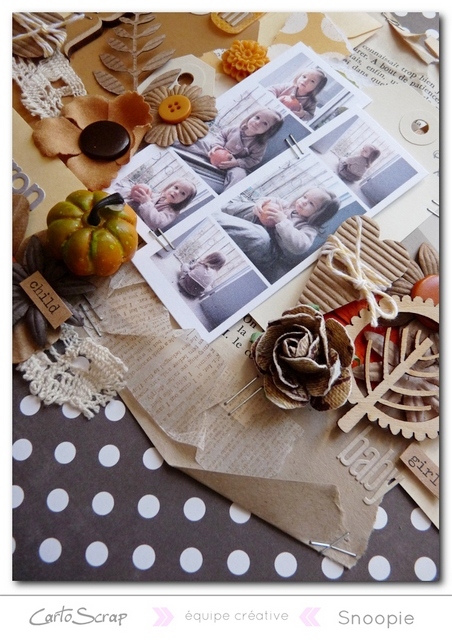 Liste du matériel : Papier imprimé Dots & Stripes – Chestnut Small Dots, Bazzill A4 Kraft, Die Poppystamps – Gentle Leaf, Die-Namics – Rustic Hearts, Fleurs Floripetal – Cafe – Chocolat, Enveloppes tag – Grand format, étiquettes américaines 6×12 cm – Marron et Beige, et étiquettes américaines 2.5×6.4 cm – Beige, ficelle Baker's Twine – Buttercream, Alphabets mini – Victoria Park et Ruban twill – AaBbCc... .
– Mylen :
"J'ai choisi une image de notre voyage à Amsterdam en automne 2010… je suis partie de la photo aux couleurs chaudes pour choisir mes papiers et le combo de couleurs de ma page".
Liste du matériel : Papiers imprimés LPDP, Toile à relier 30 x 30 effet Noyer, Badge Cartoscrap "Profiter du moment présent", Dies Die-Namics Alphabet "Bye the Letters Uppercase", "Peek-a-Boo" et "Labels and Tabs", Stickers My mind's Eye "Collectable", Tampon à molette Kesi'Art Destination, Tampon Acrylique Des Mots en Scrap .
– Binka :
"L'automne n'est pas une occasion spéciale que je scrap, même si j'aime beaucoup les couleurs de cette saison, pour moi c'est plutôt la fin de l'été et des tongs."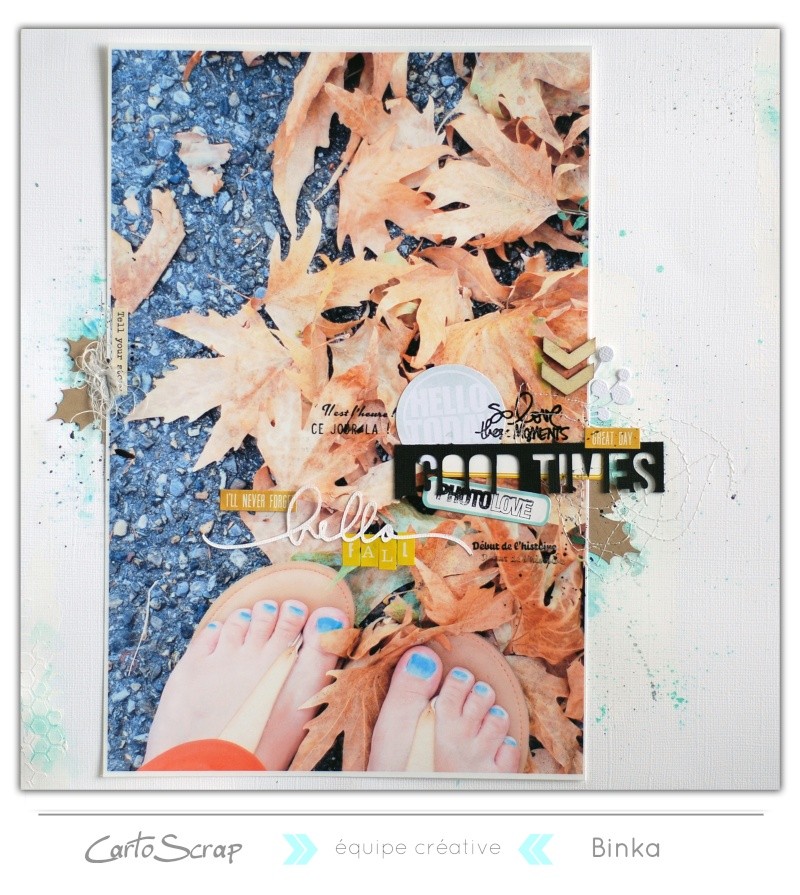 Liste du matériel : papier bazzil blanc, gelatos, chevron bois studio calico, stickers my minds eyes, tampon technique tuesday family circle et photo love, tampon molette kesiart quotidien, die-namics celebrate, die Impression Obsession – Leaves, Die Memory Box – Chloe Stem.
– SandyDub :
"L'automne est une période que j'aime beaucoup à cause de ses jolies couleurs et des ses fêtes . J'ai choisi de faire 2 cartes en utilisant des découpes d'Halloween sur un fond créé avec les gelatos. Ces encres sont vraiment idéales pour nuancer les tons ."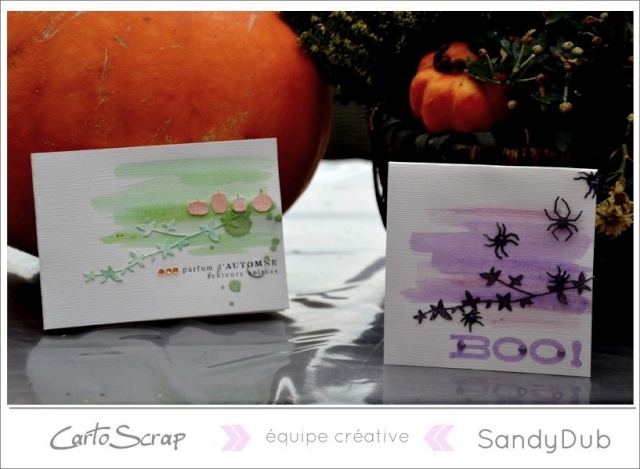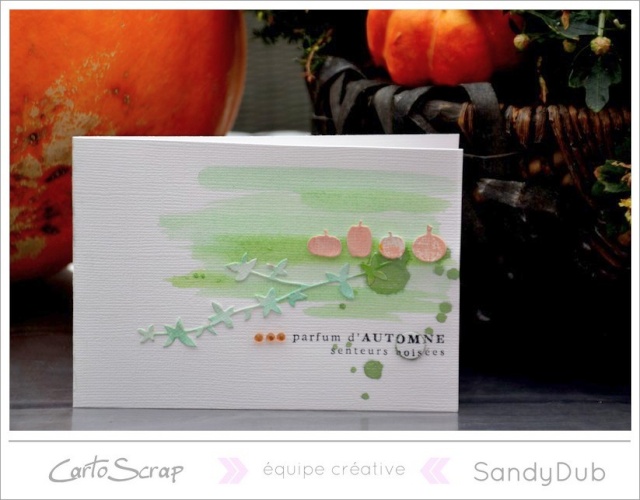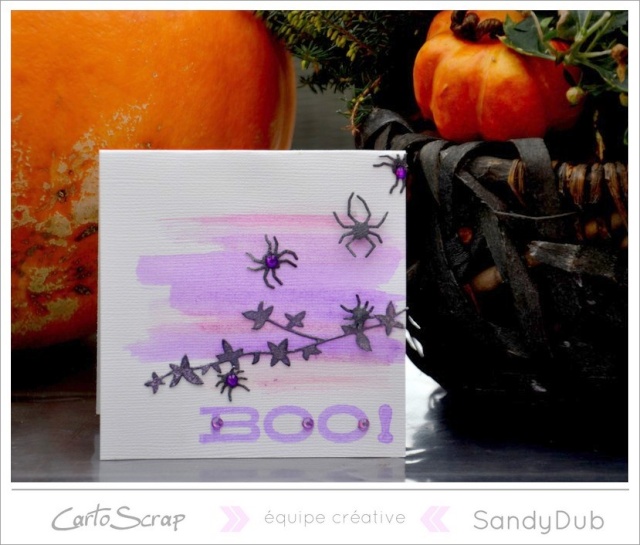 Liste du matériel : Die Memory Box Scary Spiders, Floral Vine , Perfect Pumpkins ; Gelatos Mix & Match : Red, Green, 50s Dinner, Gelatos Metallic, Bazzill A4 White – Texture Canvas, Perforatrice cercle 1/4" (6 mm), Colle silicone, Strass Kaizercraft orange .
Nous espérons que les réalisations de la DT et le thème vous inspireront !
Bonne journée!