Bonjour,
En ce milieu de mois, les filles de la DT se sont lancées un challenge inter-équipe sur le thème de l'organisation !
Vous allez voir combien, dans des styles très différents, Snoopie, Sandydub et Mylen ont eu des idées très pratiques et originales pour s'organiser dans leur quotidien !!
N'hésitez pas à vous inspirer de leurs idées !!
Snoopie : "Cela fait un moment que j'en ai marre de ramasser des barrettes dans tous les recoins et de pester parce qu'entasser les serre-têtes…bah ca ne fonctionne pas, au bout d'un moment tout tombe! J'ai donc choisi, pour interprêter ce thème, de créer un panneau où mes filles pourront y ranger barrettes et serre-têtes ! Du ruban, du beau papier pailleté et quelques décos !Sans oublier le méga super Die Cartoscrap étiquette (l'étiquette "adorable"), trop bien !"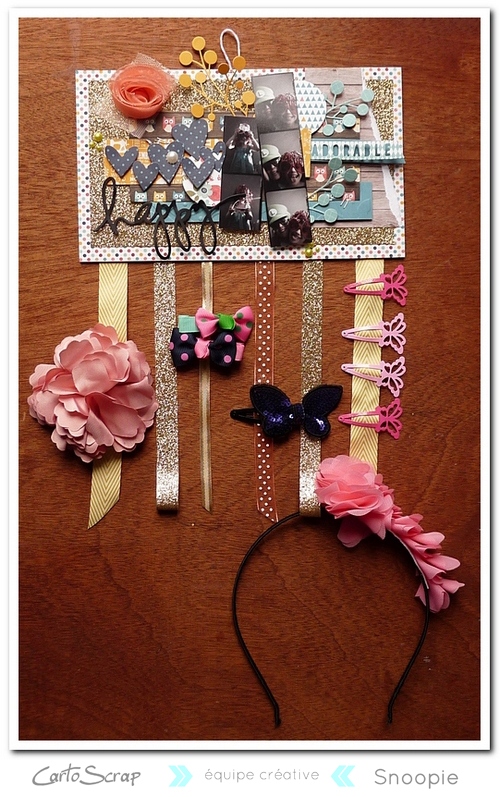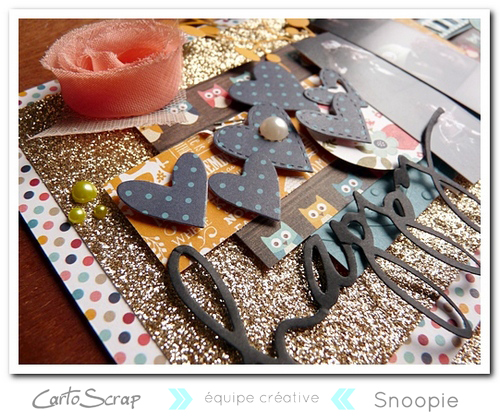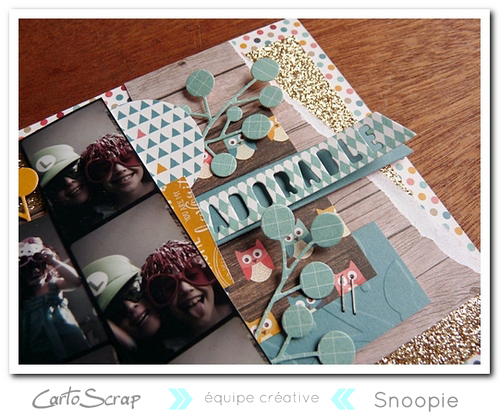 Liste du matériel : carton kraft – 30x30cm,cardstock Bling Bling – or rose, ruban de roses – corail, Die Heidi Swapp – happy, Die Poppystamps – stitched heart trio, Die Cartoscrap – étiquettes , Die Lime Citron – branche à pois, rubans organza orange à pois blanc, satin fin marron doré et ruban twill chevrons, mini pack 15x15cm – Echo Park – The story of us, demi-perles nacrées kési'Art – rose, vert, bleu pastels, Doodle twine – cupcake, mousse 3D.
SandyDub : "Comme toutes les scrappeuses, j'ai un gros problème de rangement des dies et tampons. J'ai donc décidé de réorganiser tout ça en créant un classeur grâce à la Fuse. C'est vraiment un outil très pratique qui permet de redimensionner et compartimenter à nos envies les pochettes. Par contre, il faut bien faire attention quand on met un peu de poids parce que ca peut se décoller (c'est ce qui est arrivé sur la photo badges). Il suffit de refaire un passage avec la Fuse pour que tout tienne correctement. Je pense créer plusieurs classeurs par thème ou par marque. J'ai réalisé un classeur Cartoscrap ayant sous la main tous les tampons, badges et dies."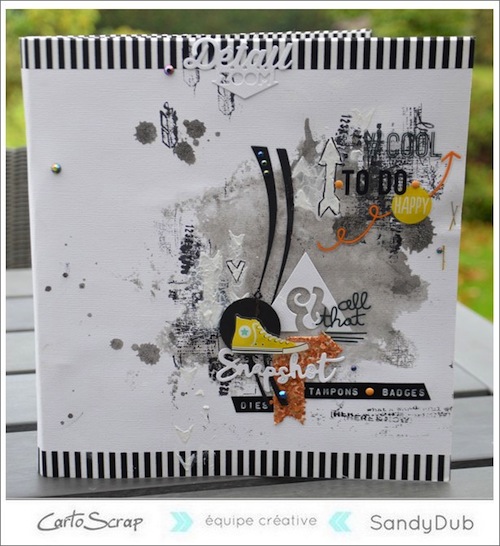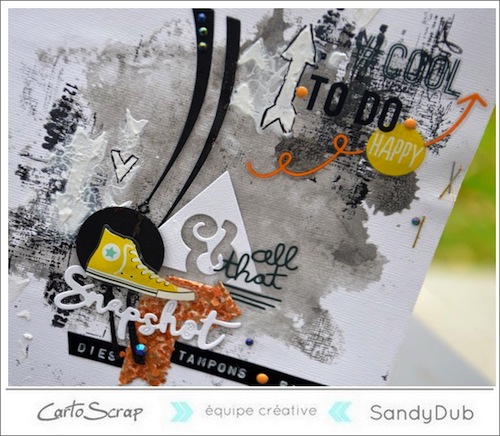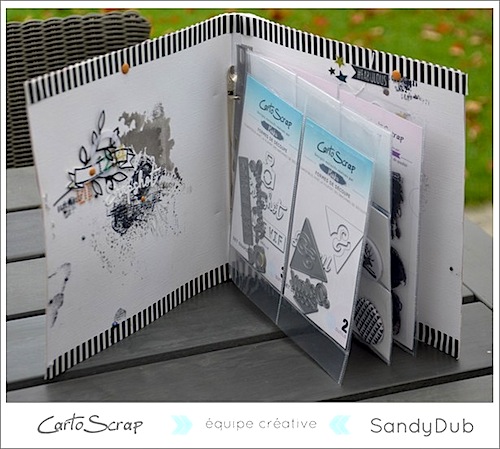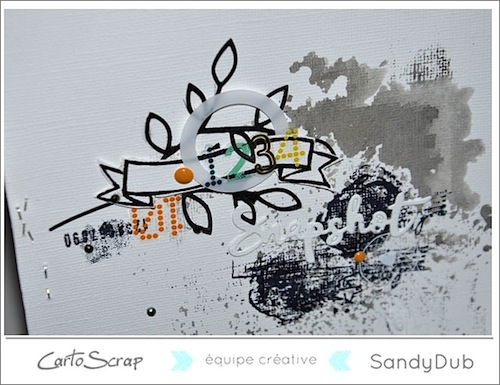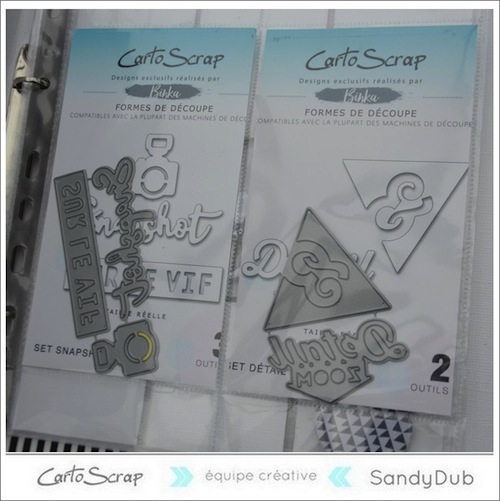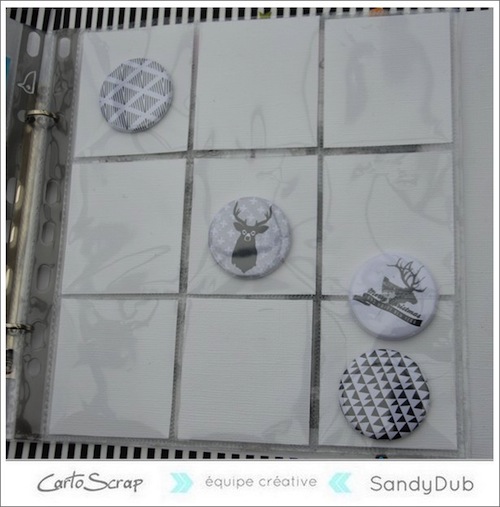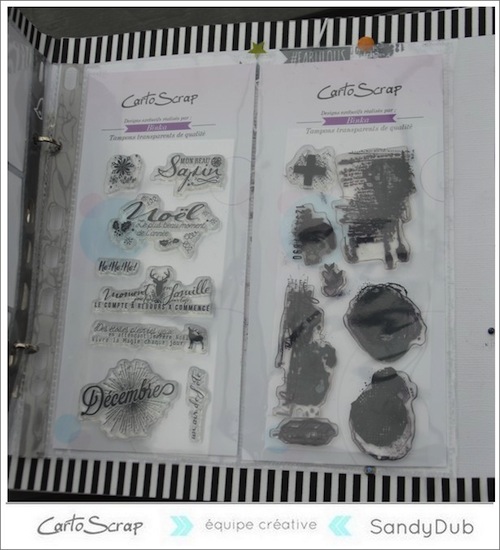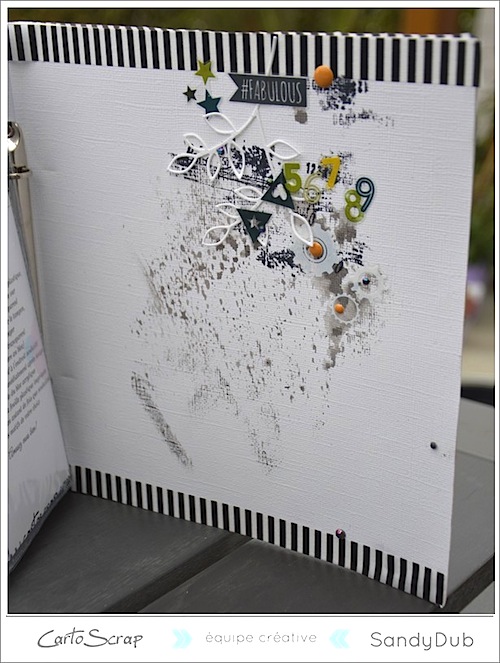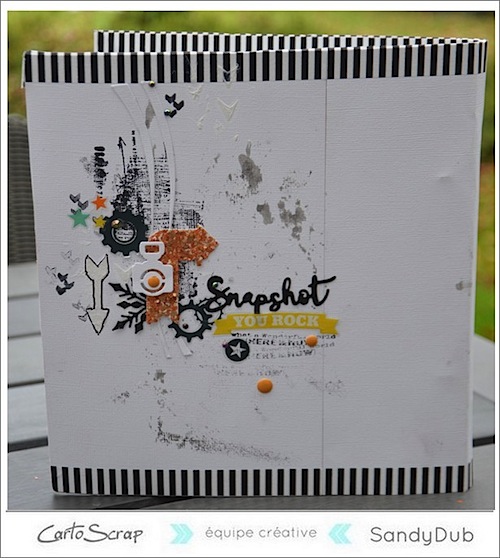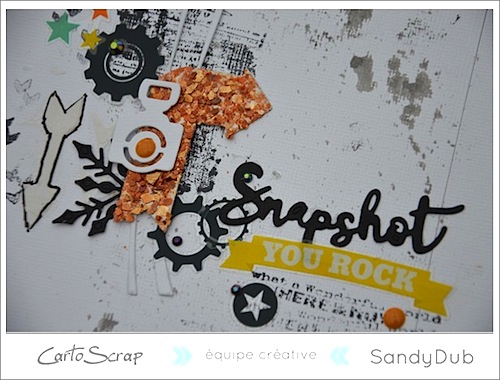 Liste du matériel : Fuse Tool, Papier Bazzill white et Blackbird, Gelatos Black&White et Manhattan, Tapis teflon, Pipette, Tampons CartoScrap -"Grunge"-"You&Me", Tampons Avery Elle Build a banner, Dies Cartoscrap "Détail" et "SnapShot", Die Echo Park Arrows Set 1, Dies Memory Box -Lorelai Leaf, -Lorelai Leaf Outline, – Snowflake Ribbon, Enamel Dots Jubilee Tangerine, Stickers Simple Stories -So Rad Photo -So Fancy Photo, Stickers sn@p Clear Words, Strass DoCrafts Irisé 3MM et 5MM, Mika Flakes 13@rts, Pochoirs ppur Medium Faber-Castell, Modeling Paste, Encre Versafine.
Mylen : De mon côté, pour m'organiser, j'ai besoin de faire des listes… des listes, des kilomètres de listes !! J'aime avoir également de multiples agendas selon le cadre : boulot, scrap, mariage… J'ai donc choisi de customiser des pages d'agenda ainsi qu'un agenda mensuel pour faire un calendrier d'anniversaire… 2 petites choses qui seront bien utiles !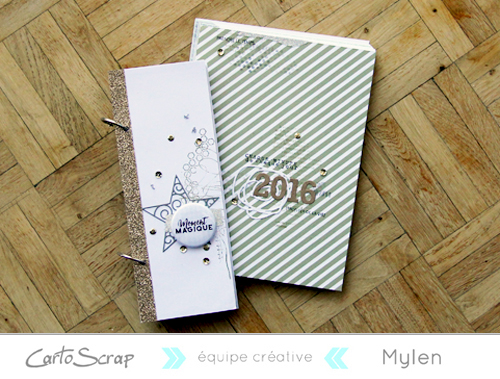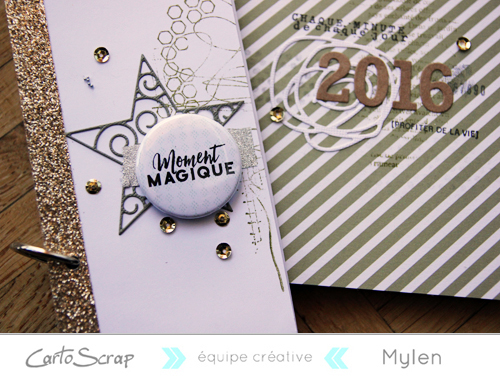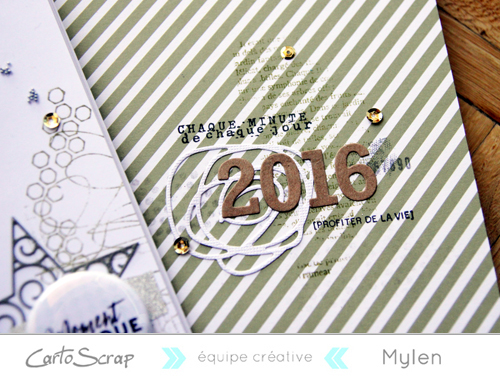 Liste du matériel : Memory Binder Heidi Swapp – Hello Beautiful, papier A la bonne etoile – Kesi'Art – Camel, Die Memorybox – Swirl Majectic Star, Die Métaliks – Ronds écrits, – 12345, papier pailleté autocollant Bling Bling – Or, tampons L'encre et L'image – A la pointe du crayon, – Textures1, Tampons Cartoscrap – Grunge, Badge Cartoscrap (sortie à venir prochainement), Micro billes Argentées – 13 arts, sequins.
Si cela vous inspire, n'hésitez pas à nous partager votre réa pour le plaisir !!
A très bientôt.